I love going to the range and hitting balls. I hate going to the range and hitting range balls. Do you get it? Here it is: RANGE BALLS SUCK! You've all seen them, you know what I'm talking about, those ugly things that feel like you're hitting a rock with big nasty red stripes all around them.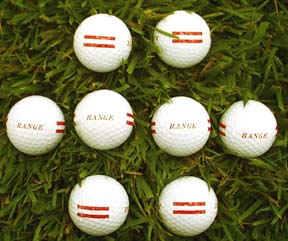 There should be a law against golf balls this ugly.
Practice for golf should prepare you for going out on the golf course. Standing over a ball with red stripes around it does not look anything like the ball I play when I'm on the course. I know the primary reason for these disgusting stripes is so cheap idiots won't steal them. I have a solution to prevent theft and to correct the red stripe dilemma that would make range balls much more enjoyable to hit.
Instead of stripes, why not put little catch phrases on range balls to prevent theft. Here's a sample of how they would read: I AM TOO CHEAP TO BUY BALLS SO I STOLE THIS ONE or I SUCK AT GOLF SO I'M PLAYING THIS CRAPPY RANGE BALL or I WEAR WOMEN'S UNDERWEAR BECAUSE I HAVE NO BALLS OF MY OWN. The list could go on and on, but you get the idea. Let's put somewhat demeaning phrases on range balls so they will not be stolen. Who would want their wife to see one of these balls in their bag?
This is a fairly simple solution to removing the ugliness from range balls. Once this problem is fixed I will figure out how to improve the quality of range balls. And to all driving range owners out there, under no circumstances buy the yellow balls with the black stripes. These are much worse than the red stripes, and no one in their right mind enjoys hitting yellow balls.